ONGCHAI RATANASUBAN "THE GOLDEN HAND "!
Special report by Serge TREFEU (2015)
Songchai Ratanasuban is one of the biggest promoters of the Kingdom of Siam, this exceptional man revolutionized the promotion of Muay Thai in Thailand!
Songchai Ratanasuban was born on March 5th, 1946, he grew up with his older brother and her sister in the province of Chachoengsao. His brother was a good boxer who fought in Lumpinee. Songchai is going to make him about twenty fights with more or less of success…
Songchai turns out to be better to organize boxing matches that to make a career as boxer, thus he directed in the organization of fight, at first in province then in the capital!
In 1973, he married Miss Saowanee Tungkongphanit, together they will have three children, a boy and two girls.
In 1976, he organizes his first big event in the stadium of Lumpinee, at the end of the 70s they were only promoter's handle in Thailand, the most known were Kun Tao, Trabouri Pramut and Kleo Thanikul who will be the big rival of Songchai in the 80s…
But Songchai goes innovated the promotion of the fights always by choosing very well-balanced matches between fighters of the same strength, the meetings which are fast going to seduce the aficionados of Muay Thai. He contributes thus to the evolution of Muay Thai in his country by organizing of prestigious events. Mister Songchai Ratanasuban becomes then the biggest promoter of Thailand and will be nicknamed " the golden hand " or " the promoter in the brain of diamond ". This success results from his hard work and from his commitment in this sport, also taking care of interests of the fighters and supplying to the spectators of the meetings at the highest level in moderate prices. It's one of the rare promoters to respect enormously his boxers…
Songchai is going to become the promoter N°1 of the Lumpinee during more than 20 years, till the beginning of year 2000!
Then, he will also be the promoter N° 1 in the other big stadium of Bangkok, Ratchadamnoen, where he's always today one of the most influential promoter of the famous stadium of Radja!
Songchai was also one of the biggest promoter of organization in Boxing, he realised fabulous events such as the memorable world championship between both terrors in Boxing of the 80s, destroyer Khaosai Galaxy (47 victories, 1 defeat) and the bull Kongtoranee Payakaroon (12 victories, 2 defeats)!
ONESONGCHAI PROMOTION, 1988, AT THE STADIUM LUMPINEE, WBA WORLD CHAMPIONSHIP OF – 53 KG BETWEEN KHAOSAI GALAXY AND KONGTORANEE PAYAKAROON, VICTORY BY POINTS OF KHAOSAI GALAXY!
Songchai is known all over the world, he's the inspirator of the famous tournament S1 which takes place every year in the King's Birthday in Bangkok, S1 now became an international tournament. He was also Co-organizer of big events with famous promoters as Kazuyoki Ishii in Japan and Sami Kebchi in France!
It's thanks to Songchai that the best foreign fighters of the planet were able to face the Thai champions at their home, in memorable events in the stadium of Lumpinee, Radja and especially in the King's Birthday!
SONGCHAI RATANASUBAN IS THE CREATOR OF THE TOURNAMENT S1, ONE OF THE BIGGEST EVENT OF MUAY THAI TO TAKE PLACE DURING THE KING'S BIRTHDAY!
he biggest foreign champions all fought for Songchai, to begin with the Dutch legend Ramon Dekkers, as well as Dany Bill, Stephan Nikiema, Guillaume Kerner, Mourad Sari, Manu N'Tho, Dida Diafat, Mustapha « Totof » Youcef, Kamel Jemel, Khaled Hebieb, Christian Garros, Wilfried Montagne, Fabio Pinca, Yohan Lidon, Cedric Muller, Rudolph Durica, Gilbert Ballantine, Perry Ubeda, Hassen Kasrioui, Rayen Simson, John Wayne Parr, Jean-Charles Skarbowsky, Farid Villaume, Dzabar Askerov, Cosmo Alexandre, and many others!
RAMON DEKKERS IS ONE OF THE CHAMPIONS FOREIGNERS WHO MORE FOUGHT FOR SONGCHAI!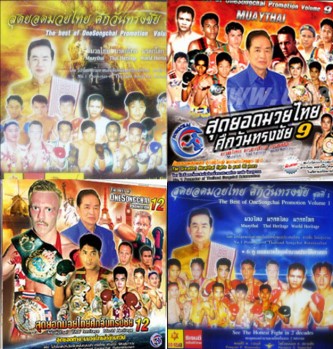 ONESONGCHAI PROMOTION, 1999, STEPHAN NIKIEMA AGAINST NEUNGTRAKARN POR MUANG UBON FOR THE LUMPINEE BELT IN 147 LBS, MOURAD SARI AGAINST SOMCHAI SOR NANTANA FOR THE LUMPINEE BELT IN 140 LBS !
ONESONGCHAI PROMOTION, 2003, CHONG SKARBOWSKY AGAINST MANKONG KIATSOMKUAN IN THE RADJA STADIUM IN THE MAIN EVENT OF FIGHT KEM SOR PLOENCHIT AGAINST PUJA SOR SUWANEE!
ONESONGCHAI PROMOTION, 2004, TOURNAMENT S1, CHONG SKARBOWSKY AGAINST SURIYA SOR PLOENCHIT !
In 2006, Songchai created his own stadium to Bangkok, the Bangkok Boxing Stadium!
THE BANGKOK BOXING STADIUM!
Today, Songchai is supported by his son Mister Siraphop Ratanasuban says Songchai Junior and his daughter Miss Pariyakorn Ratanasuban says Little Songchai!
SONGCHAI WITH DAUGHTER PARIYAKORN!
SONGCHAI WITH HIS SON SIRAPHOP!
Songchai has never forgotten that came a poor environment and always try to make a contribution to the company by charitable donations. He gave millions of bahts to associations such as the war veterans and the boxers retired. His main charitable activities also include the cooperation with the Ministry of the Interior for works of charity (program of His Majesty the King for the Hospital Chulalongkorn and program of free lunch for the poor students). He's also Co-fondateur of a Foundation for the Thai boxers!
The biggest champions of the 80s practically all fought for " The golden hand ", legendary champions such as Samart Payakaroon, Kongtoranee Payakaroon, Bangklanoi Sor Thanikul, Paruhatlek Sitchunthong, Langsuan Phanyuthapum, Kongsamut Sor Thanikul, Bangsaen Thor Kochan, Mafeuang Weeraphon, Dokmaipha Por Pongsawan, Samransak Muangsurin, Saengsakdaa Kitikasem, Sanit Wichitkrengkrai, Hippy Singmanee, Chamophet Ha Phalang!
SAMART PAYAKAROON AGAINST KONGSAMUT SOR THANIKUL FOR LUMPINEE BELT IN 102 LBS!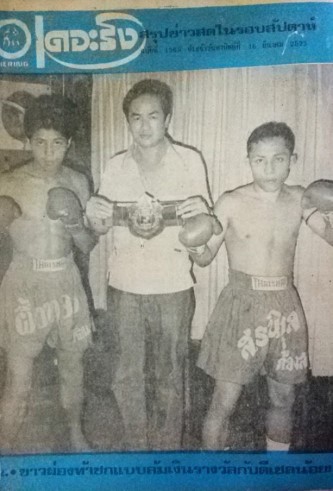 SAMART PAYAKAROON AGAINST PRAPIPOT LUKLONGTAM FOR LUMPINEE BELT IN 102 LBS!
SONGCHAI RATANASUBAN WITH CHAMPION BANGSEAN THOR KOCHAN!
SAMART PAYAKAROON VS NETNOI WOR WORASING, BANGKLANOI SOR THANIKUL VS MAFEUANG WEERAPHON!
SAMART PAYAKAROON AGAINST SAMINGNUM SITIBUNTHAM!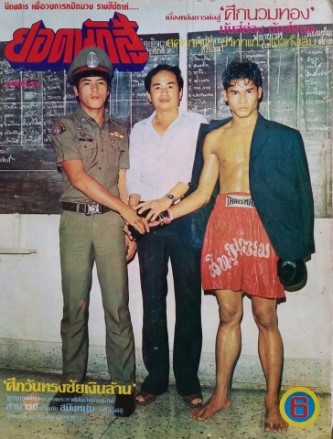 KONGTORANEE PAYAKAROON VS DOKMAIPHA POR PONGSAWAN!
SAMRANSAK MUANGSURIN VS SEANGSAKDAA KITIKASEM, PHANRIT LUKSIRAT VS WEESANUPHON SAKSAMUT, SANIT WICHITKRENGKRAI VS BANDON SITBANDPRAJAN!
SAMRANSAK MUANGSURIN VS SANIT WICHITKRENGKRAI!
In the 90s, Songchai was really the promoter N°1 because the most fabulous fighters were every under contract with " The brain of diamond ", champions who made history of Muay Thai as Matee Jedipitak, Nampon Nongkeephahuyut, Chatchai Paiseethong, Chanchai Sor Tamrangsee, Kaensak Sor Ploenchit, Boonlai Sor Thanikul, Sangtiennoi Sor Rungroj, Karuhat Sor Supawan, Namkabuan Nongkeepahuyut, Lamnamoon Sor Sumalee, Cherry Sor Wanich, Hansuk Prasatinpanomrung, Superlek Sor Isaan, Sakmongkol Sitchuchok, Orono Por Muang Ubon, Neuntharonee Tongraja, Jaroensap Kietbangchong, Samrathong Kietbangchong, Jaroenthong Kietbangchong, Coban Lookchaomaesaithong, Saencheung Pinsinchai, Wangchannoi Sor Palangchai, Pongsiree Por Ruamruedee, Pairojnoi Sor Siamchai, Sekson Sitjoenthong, Samkor Kietmontep, Kaoponglek Luksurathum, Nungunbon Sitlerchai, Changpuek Kiatsongkrit, Phetdam Lukprabat, Saimai Chor Suen!
ONESONGCHAI PROMOTION, YEAR 90, MATEE JEDIPITAK, NAMPON NONGKEEPHAHUYUT, CHATCHAI PAISEETONG, CHANCHAI SOR TAMRANGSEE, KAENSAK SOR PLOENCHIT, BOONLAI SOR THANIKUL, KAONAR SOR KHETALINGCHAN, SANGTIENNOI SOR RUNGROJ, KARUHAT SOR SUPAWAN, NAMKABUAN NONGKEEPHAHUYUT, LAMNAMOON SOR SUMALEE, CHERRY SOR WANICH, HANSUK PRASATINPANOMRUNG, SUPERLEK SOR ISAAN, SAKMONGKOL SITCHUCHOK!
THEDKIET SITHEKPITKA VS PAYROT WOR WORAPHON, NAMKABUAN NONGKEEPHAHUYUT VS ORONO POR MUANG UBON!
SANGTIENNOI SOR RUNGROJ VS NEUNTHARONEE TONGRAJA, CHERRY SOR WANICH VS NAMKABUAN NONGKEEPHAHUYUT, LANGSUAN PHANYUTHAPUM VS JAROENSAP KIETBANGCHONG, COBAN LOOKCHAOMAESAITHONG VS SAMRANSAK MUANGSURIN!
JOMHO CHEUNGGYM VS PHETDAM LUKPRABAT!
FALAN SAKRIKRITAN VS POHANG , SANGTIENNOI SOR PARUNGROJ VS NEUNTHARONEE TONGRAJA, PHETDAM LUKPRABAT VS NAMKABUAN NONGKEEPHAHUYUT!
CHANCHAI SOR TAMRANGSI, SAENCHEUNG PINSINCHAI, JOMWO CHIENGGYM, SAMRANSAK MUANGSURIN, PANOMTUANGLEK HA PHALANG!
ONESONGCHAI PROMOTION!
SAMRANSAK MUANGSURIN VS JAREONTHONG KIETBANCHONG, WANGCHANNOI SOR PALANGCHAI VS CHAMOPHET HA PHALANG, HIPPY SINGMANEE VS PALEUHATLEK SITCHUNTHONG, PONGSIRI POR RUAMRUEDEE VS PAIROJNOI SOR SIAMCHAI, SEKSON SITJOENTHONG VS KARUHATE SOR SUPAWAN!
ATTACHAI POR YOTSANA VS SAMKOR KIETMONTEP, NAMKABUAN NONGKEEPHAHUYUT VS KAOLAN KHAOWICHIT, THONGCHAI THOR SILACHAI VS CHANSAK SINGKLONGI!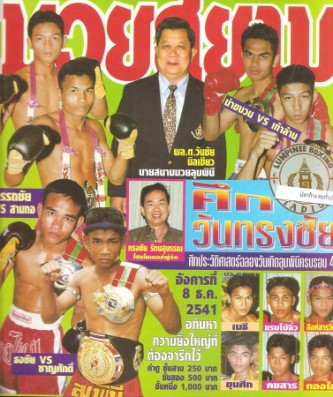 SONGCHAI PROMOTION 1997, THREE WORLD CHAMPIONSHIPS WITH DAORUNG, YOKTHAI AND PICHIT!
1999, THONGCHAI THOR SILACHAI AGAINST SAENCHAI SOR KINGSTAR, VICTORY OF THONGCHAI BY KO!
RAMBO PONGSIRI WAS ONE OF THE BOXERS FAVORITE OF SONGCHAI!
SONGCHAI RISES ON THE BOXING RING TO CONGRATULATE THE END OF CAREER OF ONE OF HIS BOXERS IDOL, SAMRANSAK MUANGSURIN!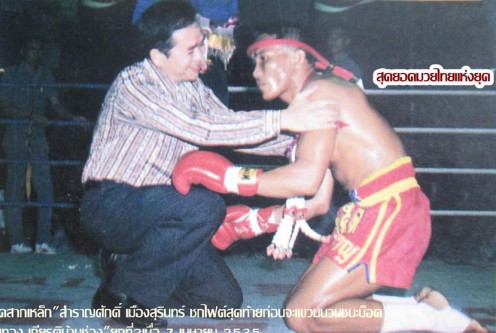 So, in the 2000s Songchai Ratanasuban who was the promoter N°1 of the stadium of Ratchadamnoen often organized events with the promoter N°1 of the stadium of Lumpinee, the mister Virat Wachirarattanawong (Petchyindee Promotion). It was the Top of the fighters of the Radja against the best fighters of the Lumpinee!
RADJA AGAINST LUMPINEE!
SEANCHAI SOR KINGSTAR VS PHETBOONCHU FA GROUP ET SAKEDDAO PHETPAYATHAI, SAM-A THOR RATANAKIAT VS PAKORN SAKYOTIN, NONG O SIT OR VS SINGTONGNOI POR TEELAKON, KUNGWANLEK PHETCHYINDEE VS THONGCHAI THOR SILACHAI, PORNSANAE SITMONCHAI VS WUTIDET LOOKPRABAT, MONGKONCHAI PETSUPAPAN VS PETAWEE SOR KITTICHAI, RUNGRUANGLEK LOOKPRABAT VS KAIMOOKDAM SIT O, NORASING LUKBANYAI VS PALANGPON SIT O!
RADJA AGAINST LUMPINEE!
JOMTHONG CHUWATTANA VS NONG O SIT OR, MANASAK SITNIWAT VS PORNSANAE SITMONCHAI, PHETAWEE SOR KITTICHAI VS SAM-A THOR RATHANAKIAT, SINGTHONGNOI POR THELAKUN VS SITTISAK PHETPAYATHAI, PAKORN SAKYOTIN VS RUNGRUANGLEK LOOKPRABAT, KHAIMOOKDAM SIT O VS RUNGRAT NARATRIKUL, PALONGPOL SIT O VS PHETMORAKOT TEDEED 99, DANG SOR PLOENCHIT VS SUPERBANK SAKCHAICHOT, PRAJANCHAY SAKRIRANCHAY VS PHETRANCHAY FA GROUP, THONGCHAI THOR SILACHAI VS SEKSUN OR KWANGMUANG!
In 2015, Songchai has yet two superstars who are under contract with him, Sangmanee Sor Tienpo (Best boxer of year 2012) and Superbank Sakchaichote (Best fighter of year 2014, Best fighter of the year of the stadium of Lumpinee and the stadium of Radja in 2014)!
It's the proof that the old "Lion" of the promotion about 70 years is always present, the legend of " The golden hand " is not ended!
SONGCHAI WITH HIS FORMER CHAMPIONS!
(STAND) KANOKRAT POR MUANG UBON, NAMPON NONGKEEPHAHUYUT, JAROENTHONG KIETBANGCHONG, SAMRANTHONG KIETBANGCHONG (RIP), MR. SONGCHAI RATANASUBAN, KONGTORANEE PAYAKAROON, MASTER YODTHONG (RIP), WANGCHANNOI SOR PALANGCHAI, SANIT WICHIKRIENGKRAI, NAMKABUAN NONGKEEPHAHUYUT!
(SEATED) KARUHAT SOR SUPAWAN, SAEN SOR PLOENCHIT, PALANNOI KIETANAN, HIPPY SINGMANEE, NUENGPICHIT SITYODTONG, PAREUHATLEK SITCHUNTHONG, PAIROJNOI SOR SAYAMCHAY!
NAMPON, SAMRANSAK, SONGCHAI, NAMKABUAN, SAMART!
THE MATCHES OF BEST OF ONESONGCHAI BECAME CULTS DVD!